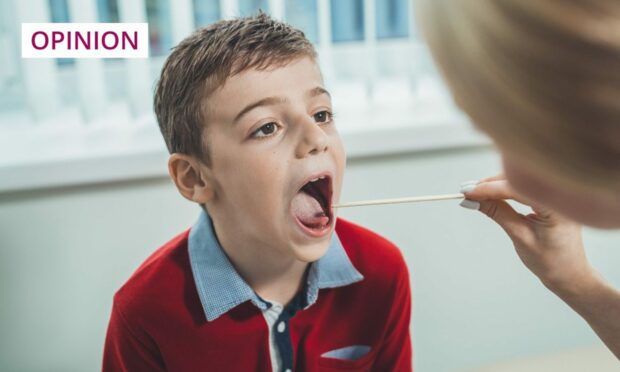 How concerned should we be about the outbreak of Strep A cases in Scotland?
That's a question many local parents are wrestling with, and it's one we have been trying to help to answer.
The first thing we can say is this is not another Covid-19 moment. There is no cause for panic.
Strep A, and the illnesses it can lead to, are long-established and very well understood by health professionals.
Even spikes in cases, like we are seeing just now, are not rare.
All the indications so far suggest the outbreak is broadly consistent with the last spike seen in 2018.
However, we must also recognise that this is not 2018.
Strep A: Parents are concerned about cases in Scotland
Since then, we have all come through the trauma of the pandemic and it is only natural that some people might be feeling edgier as new health warnings are sent home in schoolbags.
Parents are telling us they are concerned and want to know more about cases in their area.
But our reporters have established that Scotland is not yet in a position to report that level of detail in the way that is already happening elsewhere in the UK.
That is a worry.
One thing Covid taught us is that people need to feel they can make informed decisions.
That is why clear, consistent and trusted information is so important. If it is not provided, it creates a breeding ground for rumour and conspiracy theories.
Group A streptococcus (GAS), also known as strep A is a common bacteria which causes mild infections. These are usually mild but on some rare occasions can become a more serious infection known as invasive Group A Strep (iGAS).

For more information visit https://t.co/707spBTygy pic.twitter.com/s0ObU6KbPm

— Public Health Scotland (@P_H_S_Official) December 12, 2022
Public Health Scotland, as the main authority, has indicated that more regular and detailed information will start to be shared soon.
We welcome that, and the signs that our local health boards are also stepping up their communication with parents.
Our in-house expert describes Scotland's data recording and reporting systems at the outbreak of Covid as "shambolic".
We hope lessons have been learned.