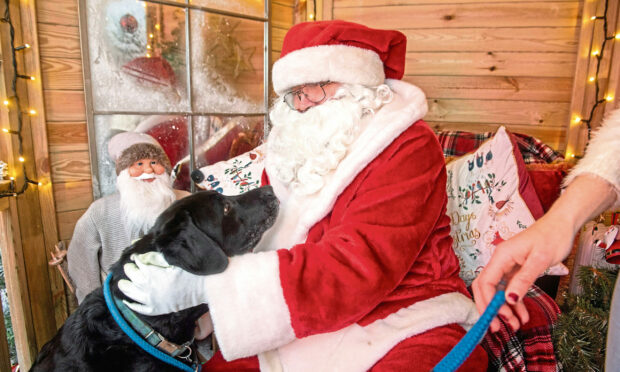 Merry Christ-mutts! Gayle takes her canine companion Toby to meet Santa in his magic grotto.
As my big, hairy Labrador Toby drags me towards Santa's grotto, his excitement levels are shooting through the roof.
I'd been telling him about this special visit all week, and he simply cannot wait to meet his festive hero.
We've booked in for a Santa Paws session at the Aberdeen Dobbies store – they also run in the Dundee, Perth, Dunfermline and Inverness outlets – and expectations are high.
Toby's tail wags and helicopters more wildly than ever when he spots two cheery looking elves waiting to welcome us into the grotto, and he's beyond delighted when they each give him a biscuit.
"Come on in to Santa's workshop!" beams Heather the elf.
"This is a wonderful place where the magic of Christmas comes to life! Santa can't wait to meet you!"
Magic moments
Once inside, we're encouraged to read letters sent to Santa from children, all claiming to have been very well behaved, pleading for gifts of all shapes and sizes.
We can't fail to be impressed by the enormous sleigh taking centre stage, stacked high with beautifully wrapped parcels.
"These need to be sorted for delivery," chirps Liam the elf. "Could you please help us find the present with a jigsaw inside it?"
This is easier said than done as there are so many!
"I'll give you a clue," says Liam. "It's a small parcel!" Bingo – I find it!
Meanwhile, Toby is enjoying a wee chat with a (stuffed) Christmas cat sitting by a fireplace and a reindeer (also stuffed) keeping watch over proceedings.
Building a snowman
The elves then request our help in building a snowman.
This involves more or less sorting out his head from his body parts and sticking them together.
Through the magic door
Then… it's time to meet Santa! But first, we need to work out the secret code for the magic door!
"Do you know what it might be?" asks Heather. Toby and I have absolutely no idea.
Luckily, Heather is feeling generous, and she tells us. It's three knocks on a giant red bauble and three clicks of our heels. And then we are in!
Once through the door we're treated to a clear view of Santa, sitting resplendent in his red suit with his white beard flowing and a ho-ho-ho-ing.
"Hello there!" booms the jolly, bespectacled fellow.
"Who's this we've got here then? He's the biggest dog I've met so far!
"It's just been small dogs, from dachshunds to pugs and terriers so far! What a handsome chap! I wonder if he would like a treat?" Well yes, of course!
Toby gobbles down about a dozen biscuits presented to him by Santa, very nearly taking off one of his fingers in the process.
He's also pretty keen for a cuddle on Father Christmas's knee, but being a larger-than-usual lap dog, it doesn't quite work.
Christmas gift
Before we say farewell, we have our photos taken with Santa, and then Toby's handed a gift bag containing perhaps the squeakiest and most robust dog toy in living history.
I'll be wrapping that up for the Big Day!
Reluctant to leave, we browse the aisles in search of some last-minute Christmas gifts, bumping into a cocker spaniel, a French bulldog and a poodle along the way.
Wee wander (!)
I'm ashamed to say that while wandering through the garden section, Toby takes it upon himself to cock his leg upon one unfortunate tree.
Meanwhile, we spot a pug doing a poo (oops) but staff members are quick to clean this up.
"Dogs are very, very welcome here, and Toby isn't the first to have a piddle!" operations manager Yvonne Bernard tells me.
"Our Santa Paws experience has been hugely popular with dogs and their owners and it always brings a smile.
"Like Santa told you, it's mostly been small dogs, from Lhaso Aposos to terriers, but big dogs are welcome, too!
"Last year we even had a cat – on a lead! It was a very well-behaved Bengal cat and Santa had to dig out a cat toy for him as a dog toy may not have gone done so well.
"Nine times out of ten it's dogs that come along, but if people want to bring their feline friends then why not?!"
Festive treats
As well as Santa Paws, Dobbies has been running special breakfasts with Santa where kids can make a snowman and play games.
After Christmas, the focus will be on festive sales, with up to 50% off many items.
"There's lots to look forward to," says Yvonne.
"Once Christmas is out the way – a sad thought – we'll run sales, and then in January we'll have seeds, spring bulbs and seeded potatoes.
"There's always something fun going on here. But right now we want to wish everyone a very merry Christmas!"